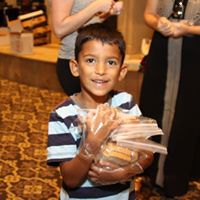 Volunteer to:
Make Sandwiches
Build toiletry kits
Work in the mailroom to sort/distribute mail
Teach job readiness skills
Serve food in Clyde's Kitchen
To see how you can make a big difference contact Eddie @ edill@crossroadsatlanta.org
"When You Look Good You Feel Good!"
Many of the men and women coming to Crossroads are in need of clothing that they can wear to an interview or new job. And, to help them with their confidence we offer new and gently used donated clothing and shoes through Ty's Closet!
Now that the cooler weather is upon us we need help supplying not only winter items but everyday clothing and items as well.
Our wish list includes:
Jackets & Hats
Socks
Shoes with closed toe
T-Shirts- Long Sleeve
Underwear & Thermals
Gloves & Scarves
Sweaters & Sweatshirts
Jeans
Backpacks
Diapers and Personal Wipes
For more info on how you can donate to Ty's Closet, email Ms. Ty at Ty@crossroadsatlanta.org.
Help us do MORE for our most neediest neighbors!
$10 provides identification
$20 provides a birth certificate
$50 provides 100 sandwiches
Thank You!
Thank you for your support of Crossroads! We value all of our supporters. So to ensure that we have accurate information for our files, we would like to request and revisions to your mailing address. Also, please specify if there's a mode of communication you DO NOT want us to use and we'll make sure it doesn't happen in the future!
Show Your Support!
Support our work and support our neediest neighbors! Your donations allow us to continue to provide services to individuals, youth and families, and to develop new programs to support the changing needs of our community. Make a donation today to ensure that our doors remain open to serve those in need each day for many years to come.
Monthly Giving!
Giving on a monthly basis increases your capacity to make a difference, while removing the financial burden of a one-time contribution. Give at the level you want, when you want and at a monthly amount that works for you and your budget. By becoming an on-going supporter, you are ensuring that we are ready to meet the needs of those experiencing hardship and homeless and face the future with confidence.
Donate Now!
www.crossroadsatlanta.org/donate