Without ID, Homeless are trapped in a vicious cycle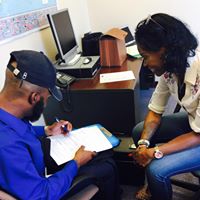 Everyone is worthy of a safe and secure place to call home and Crossroads cannot succeed, and more importantly, our guests cannot succeed, if we attempt to end homelessness in Atlanta alone.
For people experiencing homelessness, not having an ID makes it much harder to get a job, find a place to live, open a bank account, get food stamps and disability benefits- or in some instances, even stay at a homeless shelter.
It is through partnering with organizations such as Living Room, with our mobile identification services that allow us to reach people where the need is and accessible transportation is not always available. Living Room assists people living with HIV with finding stable housing.
So far this year, Ms. Ty, our Renewal Project Manager has helped over 700 people at our partner organizations obtain birth certificates and state issued IDs as the first step toward getting the process started.
Programs
Crossroads serves over 4,200 men, women and children each year
The Renewal Project
90 day stabilization program
Helps able bodied guests get back on their feet
Provides over 3,500 guests with a mailing address
Acquires over 3,100 state issued ID's and birth certificates both on-site and through our mobile documentation service unit
Supplies over 6,500 MARTA cards for employment related and medical emergencies
Clyde's Kitchen
Serves over 60,000 meals to men, women and children, 6 days a week
Crossroads Connect Program
Employment training program to help guests develop a stable and sustainable future
Identifies employment opportunities
Provides job-training skills that include,

Computer access and basic courses with introduction to Microsoft Office
Resume building and interview techniques workshops
Financial planning with basic understanding of banking and one on one personal finance discussions
Teamwork and time management development