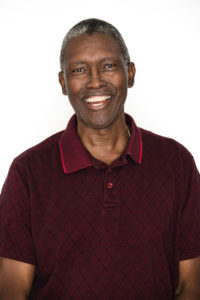 Coincidences are not always what they seem. Sometimes they're evidence that God is at work…
On a typical day in 1974, a destitute man visited St. Luke's Episcopal Church in search of a hot meal. An employee of St. Luke's, moved by the gentleman's request for a basic necessity, shared her lunch with him. In an effort to ensure that he would never experience hunger again, she began bringing him lunches from home each day. Each day, he showed up for lunch. The gentleman then told his friends about the kind young woman, and assured them that they would be fed at St. Luke's as well. After an outpouring of daily visitors, that young woman, and a few of her co-workers, began a prayer group. They prayed for direction. Shortly after, they presented the idea of a soup kitchen to the active Reverend.
God was on the move…
In September of 1987, Clyde Corbin found himself just about to graduate from St. Leo University. He wasn't exactly sure what to do with his newfound degree in business, but he was ready to step into his "calling". His passion for culinary arts, and God's guidance, led him to St. Luke's Episcopal Church's Soup Kitchen, located in the church's Parish Hall. There, Clyde and several helpful volunteers served nearly 900 meals to Atlanta's hungry – each day of the week.  For the next 10 years, Clyde and a dedicated group of St. Luke's staff and volunteers would continue to serve meals out of the Parish Hall.  Out of this effort, Crossroads Community Ministries was birthed, and a transition was made from the Parish Hall to the current location on Courtland Street.
Clyde, and a group of tireless volunteers, served Crossroads Kitchen's first meal on July 1, 1997. Clyde and the team initially told Crossroads' Guests that they would serve them meals for a total of six months. This "strategy" was to afford the Guests an opportunity to take some responsibility for their lives, in terms of securing employment or continuing their educations. Several volunteers assisted with the kitchen, including a group of college students who were moved by the ministry. After their day of service, those students decided to return the next morning. On the next morning, they arrived a few hours before Clyde, and painted "Clyde's Kitchen" on the wall as a surprise for Clyde. Thus, the kitchen was renamed, "Clyde's Kitchen".
Two decades later, Clyde says "joy" is what motivates him to return to the kitchen and serve nearly 250-300 meals each day. He finds much joy in being able to help others. Crossroads' faithful volunteers also motivate him. Three volunteers in particular, Alice Watson, Sally George and Philomena Monteith have been volunteering with him since the kitchen doors opened in 1997. Twenty years later, they are still rock solid volunteers.