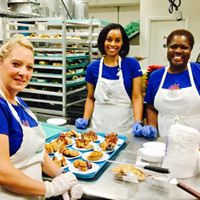 SunTrust is a longtime partner with Crossroads and continually proves that our corporate volunteers are the backbone of our organization.
Proving they are passionate about "Lighting the way to financial well-being, by helping communities achieve financial confidence", volunteers from many areas throughout the bank work tirelessly fundraising for their United Way Campaign, serving food to our guests in the Crossroads Kitchen, teaching Financial Literacy in our job readiness training programs or donating clothing through their "Clean Out the Closets" campaign.
"We applaud the work Crossroads does every day to help those in need in our community." says Michelle Sutch, Wholesale Operational Risk Manager at SunTrust.